Charity Events
Total raised this academic year:
£234
A cake sale held on Friday October 13th raised £169 for Mental Health Charities. Well done to the Inclusion Team.
Friday 27th October was Wear it Pink Day at TCA for Breast Cancer Research. Staff wore items of pink to show their support and raised £165.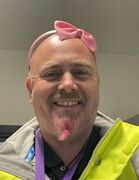 Total raised for charity in previous academic years:
£1843