Inclusion Through Farming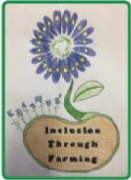 Schools throughout Europe are faced with the challenge of integrating large numbers of migrant children from a diverse variety of backgrounds. Their successful inclusion into the school system of their adopted country is vital to the long term outcomes of the child and can play an important part in integrating their wider families into society. Gardening and farming are an international language and this project sought to use school gardening and farming projects as a tool for inclusion. The objective was to develop a model for inclusion using the best practice from six European partner schools that can be replicated elsewhere in a variety of settings.
Six secondary schools from the UK, Germany, France, Spain, and the French Caribbean took part. It included one residential secondary school for special needs pupils. Each school took it in turn to host a short term teaching and learning visit during which students participated in collaborative gardening or farming activities designed to be inclusive and to build pupils self-confidence and self-esteem. Between exchange visits pupils undertook collaborative school based activities where the results were shared. These included competitions to grow the tallest sunflower and the largest pumpkin!
The anticipated impact of this project was that pupils would feel more included in school which means they are happier, more self-confident and have greater self-esteem. This will mean that their academic attainment would be improved and they will have better life chances. For teaching staff and schools the impact would be that they are better able to offer a more inclusive education to their most disadvantaged students.
Unfortunately almost as soon as the project started Hurricane Irma destroyed the infrastructure on St Martin in the French Caribbean. This meant that Cité Scolaire Robert Weinum was only able to participate in the final short term teaching and learning visit, to Paris. They were also unable to complete any of the collaborative activities or host an exchange.